Compare Marketing Films with alternatives
There's a myriad of ways to make business videos, but when you want to impact buying, the choices distill pretty simply.
Compare us with conventional video agencies
Video agencies vary greatly and can deliver great quality creativity at high prices, but in our opinion tend to favour beauty over buying.
Compare us with social agencies
Social agencies can deliver high volume, high frequency messaging at high prices, but in our view tend to favour noise over buying.
Compare us with video AI
Video AI delivers super low-cost shine, somehwere between human and robotic, but the inauthenticity in our experience tends to turn serious buyers off.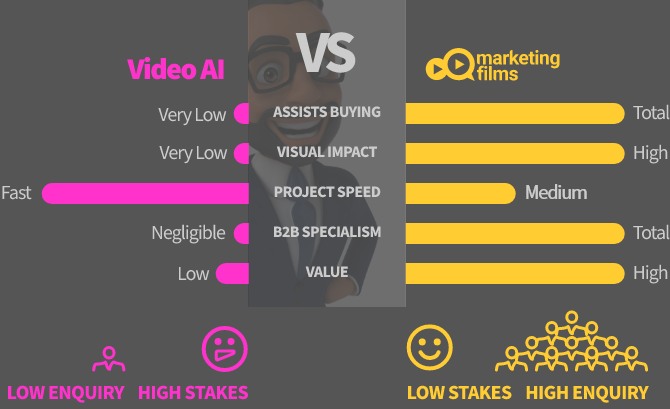 Start your video rejuvenation
Book a 30-minute discovery session to see where buyer-assist videos would best work on your website and social media. At the very worst, you'll have ideas for sales growth, for free.
MarketingFilms.tv is a tradename of Sunlight Video Ltd, registered in England, number 14041777. All rights reserved. Content is copyright Sunlight Video Ltd 2023, except where otherwise marked. Terms and Privacy. There are no cookies on this page from us, only from Vimeo's standard player. Booyah.
motivate buyers with actionable videos